Soo this
past weekend
was actually pretty decent. The BF and I ended up going to a family BBQ at his grandmother's on Sunday, which turned out to be a lot of fun. The weather was perfect - in the mid 80's and sunny - and... well... it was just a good time for all of us!
The BF and his family played croquette for hours - yes, of all the games they could play, they chose to play croquette (weird, I know, but it looked like they were having tons of fun and I have to admit I had fun watching!). We were all outside way past when the mosquitoes came out - basically until the sun went down. Well, that was Sunday.
Monday night, I was just laying around when I started to feel a little itchy. It wasn't just in one place either - it was a bunch of different places all over my body. I was wondering what the heck could have caused the itchiness. Then I remembered... I was outside with mosquitoes all night the night before! I thought that if I had any bug bites, I would have noticed them Sunday night. Well, I guess not because I sure was itchy as hell! ... and not just on my legs either. Those damn mosquitoes got me
right on the @$$!
TWICE - one on each cheek!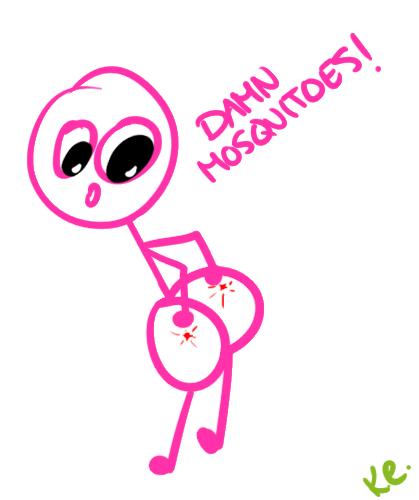 Of all the places I could have gotten bit by these mosquitoes, I didn't think my butt was one of them! It's not like I was butt-@$$ naked or even wearing shorts... I was wearing capris!
Damn mosquitoes!